Havening Therapy Group Sessions "Find Your Calm"
Your Questions Answered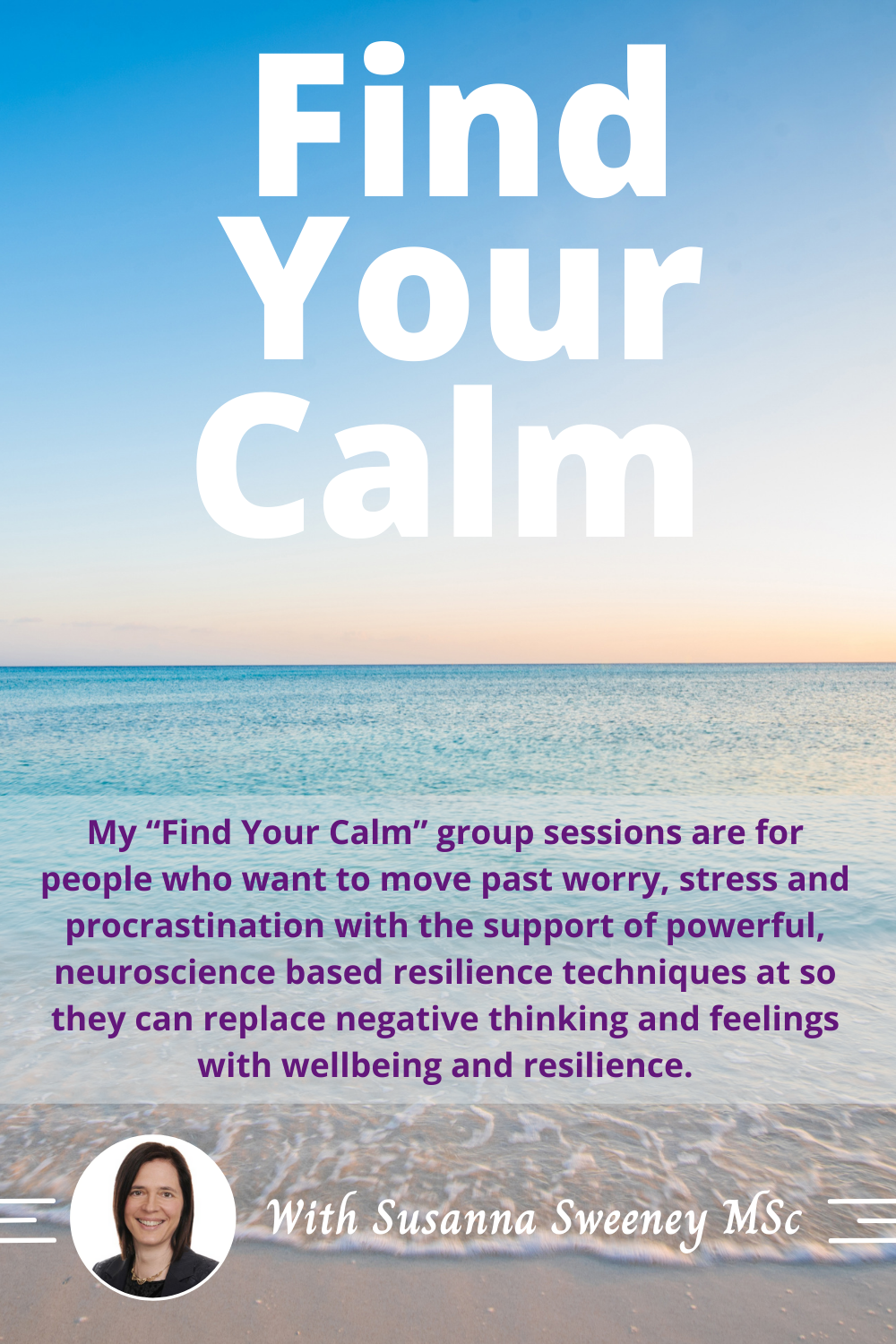 Are you...
...feeling worried and stressed by the general situation in the world today and looking for a reliable and effective way to dull down those negative feelings?
...feeling anxious and are overthinking things you feel shouldn't really be a big deal?
...struggling to relax and enjoy life?
"Find Your Calm" (Havening Techniques group session) is for people who want to move past worry, stress and procrastination with the support of powerful, neuroscience based resilience techniques at so they can replace negative thinking and feelings with wellbeing and resilience.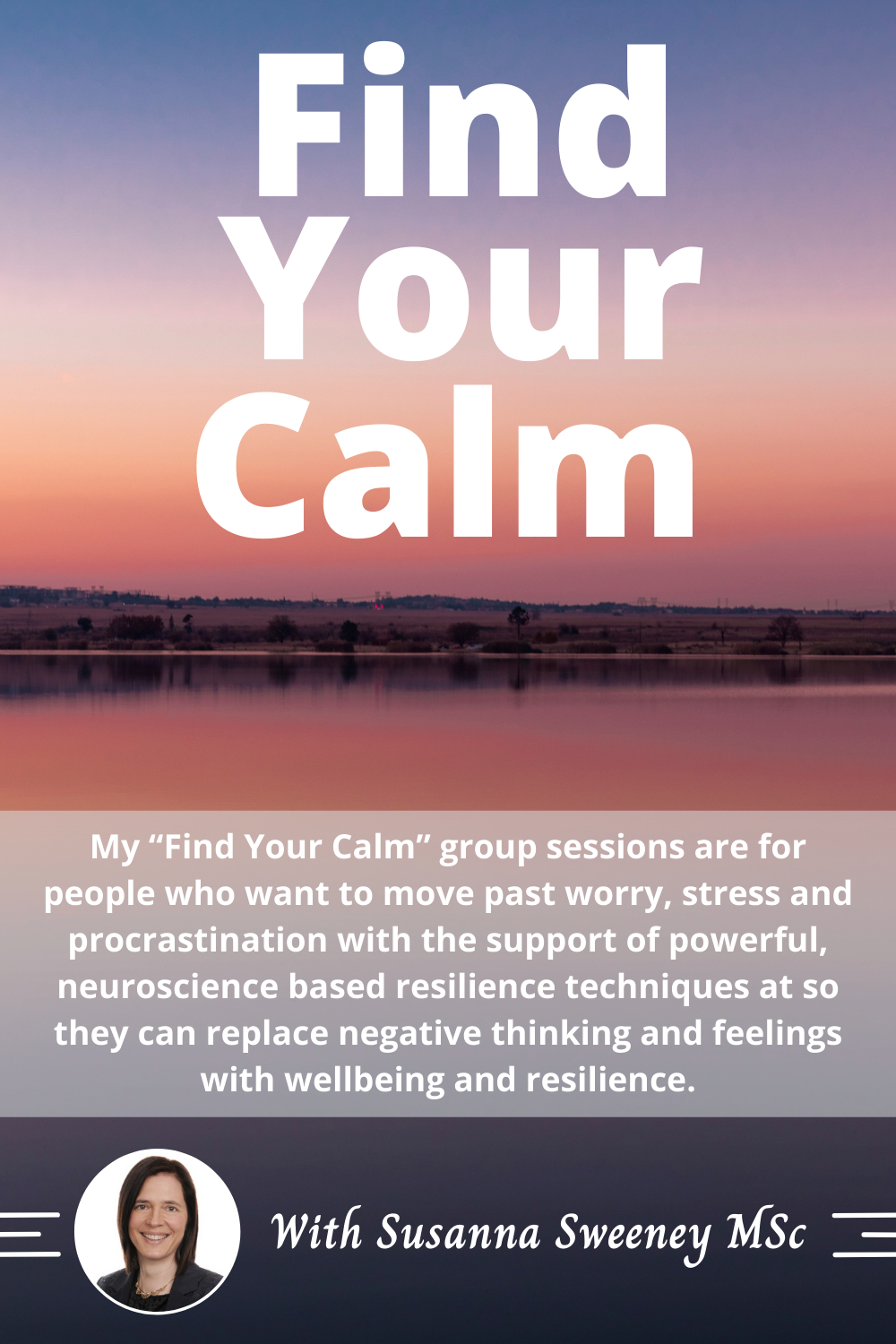 Find Your Calm (Havening Techniques group sessions): Your Questions
I figured you might have some questions about my upcoming "Find Your Calm" sessions so I thought I would answer them questions here today. For example you might ask:

What will I get?
You will get to work with me in a live online setting, in a guided group session that promises to give you tangible results in reducing the intensity of negative feelings and increasing resilience.
Will there be much talk?
No. I will do the talking, you can sit back and enjoy the experience. No need to disclose anything!
Will the techniques work for me?
Yes they will! The techniques I use ini my work are firmly grounded in neuroscience and will work for anyone.
What if I am a therapist?
If you are a therapist, you can benefit from these sessions, too.
I am very anxious- will this be right for me?
While not designed as a replacement for therapy- no matter what your starting point, you will derive benefit from these sessions.
How is this training delivered?
This is an online live masterclass delivered via Zoom.
What about confidentiality? I don't want anyone to know I am attending...
The masterclass is held live on Zoom. Zoom has a renaming function where you can change the name displayed underneath your image. Furthermore, you can turn your camera off if you so wish. There is no pressure on you to speak in front of the group. You can stay comfortably in the background during the exercises and still get your work done.
Do I have to believe in this for it to work?
No. These techniques work independently of whether or not you believe in them because they are based on neuroscience.
What if I cannot make the date?
This is a live event and won't be recorded so make sure you can make the date/ time and schedule it into your diary.
Why you are telling yourself that "Find Your Calm" isn't for you
THERE WON'T BE MUCH BENEFIT FROM A GROUP SESSION.

I beg to differ. I am certain that whatever your starting point, you will derive benefit. You will come away feeling calmer, more grounded and more positive. This statement is based on my experience of working with groups of people- offline as well as in the online space.
HYPNOTHERAPY IS MUMBO-JUMBO.
While I beg to differ and have never felt that hypnotherapy is mumbo jumbo but rather can bring good, if not entirely consistent results, I use a blend of methods- and most notably I use the neuroscience based Havening Techniques which I also train people professionals in because they are highly effective. Come check them out and see for yourself.
I DON'T LIKE WORKING ONLINE.
I have been working online exclusively since early 2020. Working online has many benefits: it is safe, saves travel time and expenses, is often more comfortable for those who are anxious plus it brings the exact same results as working face to face.
In actual fact I have found that the results often happen quicker online- because the work is more focused with less distractions. I love working online, and I honestly think it's the way of the future. I think if you gave it a go, you just might be surprised.
I AM TOO ANXIOUS TO BENEFIT FROM GROUP SESSIONS.
You can always make a start with group sessions! Deep down you might know you really need one-to-one therapy but you are not ready to commit. Find Your Calm can help you move forward by giving you a taste of what's in store when you work with methods based on neuroscience. The setting is safe, there is no pressure and you can stay anonymous if you wish.
I AM A THERAPIST...
When you take part in my Find Your Calm sessions, you can benefit as a therapist, too. If you have ever been curious about Havening Techniques, they feature heavily in what I do and you can satisfy your curiosity and experience them here while also practising lovely gentle self care!
GROUP SESSIONS ARE NOT CONFIDENTIAL.
If confidentiality is your concern, know that on Zoom, you can rename yourself (top right in your camera image there are three dots, if you click those the option comes up) - and if you want to, you can turn your camera off altogether as well.
I AM TOO SHY, I DON'T LIKE SPEAKING IN GROUPS.
There is no pressure to say anything. You are attending  a guided group session. I will do the talking, you can sit back and experience.
Now do come along and experience the wonderful Havening Techniques®!
See you there.
Warmest,

Oct 06, 23 06:08 AM

Client Testimonials of my Online REPAIRenting® Program that uses various psychosensory approaches for safe and quick transformation

Aug 02, 23 09:26 AM

Oh thank you for this simple resolution to all my worries! I feel like I have had a weight lifted off my shoulders. It is like cheating on giving up smoking.

Jun 03, 23 06:29 PM

Havening Techniques im Gespräch mit Susanna Sweeney interviewt von Michelle Haintz