Self Havening- How to Use this Powerful Self Help Tool to Best Effect
By Susanna Sweeney, MSC, MBACP, CHT

What is self Havening? 
A lesser known but very powerful self care and personal development tool that you can use at home for minding yourself and your family.
In this article, I will talk you through how to use it and what you must look out for to  set you up for a great start with this fantastic method.

How I use Self Havening Touch

On a personal level, I have been using Self Havening as part of my morning routine every day since I learned about it. I can safely say that it has boosted my outcomes.
How exactly do I use Self Havening? In my morning routine I use hypnosis and meditation. I now combine self havening with the self hypnosis part of my routine. Here, I usually focus on my current goals and intentions. I now apply Havening Touch while I do so.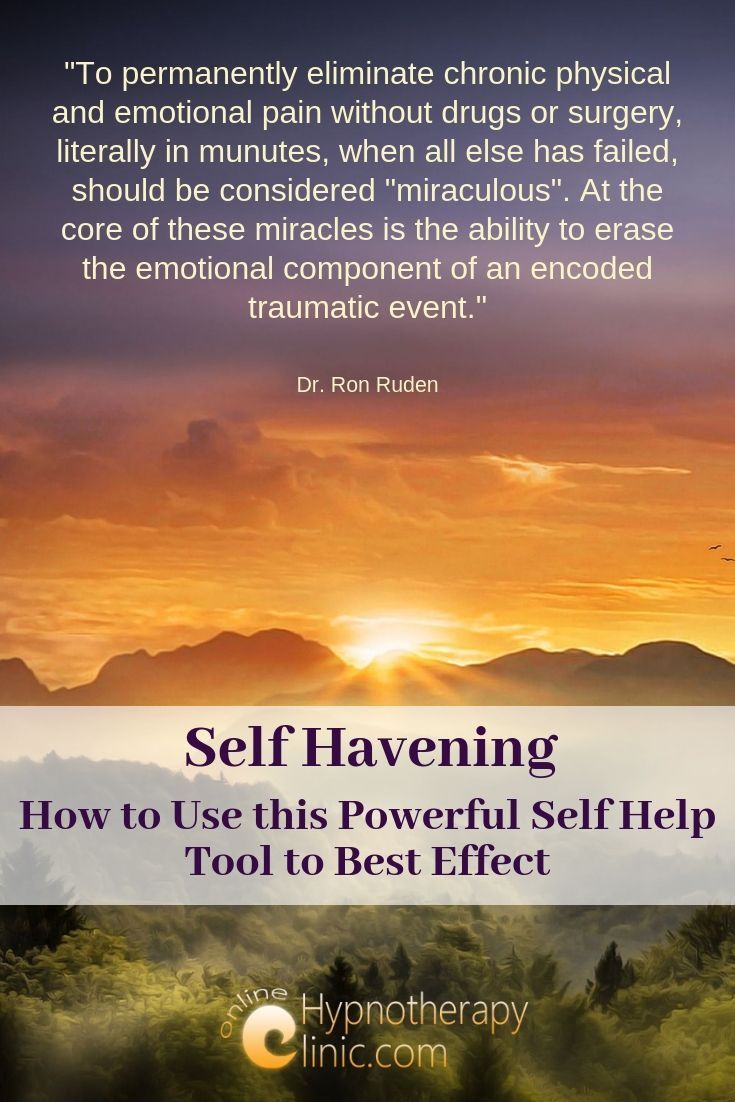 What results am I getting with it? Adding the delta waves to my morning routine gives me that extra boost of both relaxation and determination that makes me feel good about myself and the day ahead. As a result I find that tasks are easier completed and it puts a spring in my step.

Also, whenever something is bothering me or I feel something has to be cleared, I will use self havening as a first port of call. Why? Firstly, because it is so easy to do- you don't need any induction, you don't need to relax deeply, you don't need to close your eyes- you don't even need privacy. All you need is Havening Touch applied in the right way and with that, often, the issue at hand- such as fear or annoyance, will be resolved within minutes.
Self Havening really is a no-brainer:

It is easy to learn and easy to do.
It can turn what seems like a bad day into a great one.
You get results within minutes.
You can use it anywhere, even when you are in company, by picking a discreet routine, for example by using only your hands, or only bilateral eye movements.
You can self haven even when you are holding a telephone, by using just one hand.
How can Self Havening Therapy Help you ?
Expect to be able to shift negative feelings in relation to everyday incidents- annoyance, anger, or rising anxieties for example before an event such as a job interview or exam.
Develop and maintain resilience.
Expect to find a tool that can help you become or stay grounded in the face of adversity.
It can help you develop and maintain positive states and emotions such as self belief and confidence.
Expect to find a self help tool that can act as a first aid if or when a big crisis occurs in your life.
Does Self Havening Work? 

Yes, when you do it the right way, and these are the things to look out for.
You have probably picked up by now that the Havening method was developed on the basis of neuroscientific research. Every process used in Havening is based on research findings as to what works best for depotentiating receptors in the amygdala that are responsible for keeping traumatic memory at bay. The process of depotentiation is set in motion by delta brain waves.
How do you produce delta brain waves? One particular study, Mel Harper's 2012 Taming the Amygdala, pointed to touch being able to generate delta waves, and even pinpointed which areas of the body would produce the highest amount of delta waves in response to touch: the face, shoulders, arms and the inside of the palms.
We apply touch to those areas with the palms of our hands  always stroking in a downwards direction, then lifting back up to where we started.
On the face, the cheeks are the most important part to include, but you can start the stroke on the forehead and gently bring it downwards over the cheeks to your chin.
On the arms, we start on top of the shoulder, move on to the outside of the upper arms and stop at the elbow.
For the hands, we stroke over the flat palm towards and then over the fingers.
Also emerging from Mel Harper's study as way of producing delta waves, were bilateral eye movements. These days, we consider them optional in Havening, so if you like them, you can include them in your self havening routine.  If you find them uncomfortable as some people do, simply leave them out.
How do you perform bilateral eye movements? You simply look from left to right and from right to left and keep up that movement for a little while. You can have your eyes open for this part, or you can close them- it doesn't matter.
A couple of things to look out for:

It's important that you enjoy the touch. If it's not a relaxing experience for you because, for example your skin is oversensitive in a particular place or you are uncomfortable with touching your face because you don't want to ruin your makeup, you would obstruct the production of delta waves. The touch has to feel comforting and has to feel right.
Pick the areas you like best. Play with the amount of pressure you apply to those areas. Some people like firm touch on the upper arms . This can feel nicely containing, like you are being held and supported. others prefer really light touch with the fingertips. See what feels best for you and trust your own experience here.
That's about the extend of what you need to know to start a daily Self Havening practice. It really is that simple to set up and do. Once you have the hang of it, you can bring this routine with you wherever you go. The power to care for yourself is in your hands!
Self Havening and Children

Children usually really take to Self Havening. It comes naturally to them. Once they are shown how to use it, they can bring it with them wherever they go, even to school- and when something bothers them , when they are feeling anxious or emotionally unwell in another way, it can act as a mental health first aid tool.
You can include your children and use Self Havening together. It's a lovely routine to share with them and can really lift the entire family's spirits. It can become a morning or evening routine that you do together, or it can set the kids up before starting into their homework. Five to ten minutes is all that it takes to prime everyone for the day or for the next task ahead.
When Should you not use Self Havening?

Regard Self Havening as a self help practice. While that can be very supportive and helpful, it won't replace a doctor's visit when you need to have a health or mental health concern checked out.
When you know you are dealing with underlying trauma, or if you are experiencing severe symptoms such as fears and phobias or panic attacks, do seek the help of an experienced Havening practitioner who will be able to guide you through the depotentiation process safely.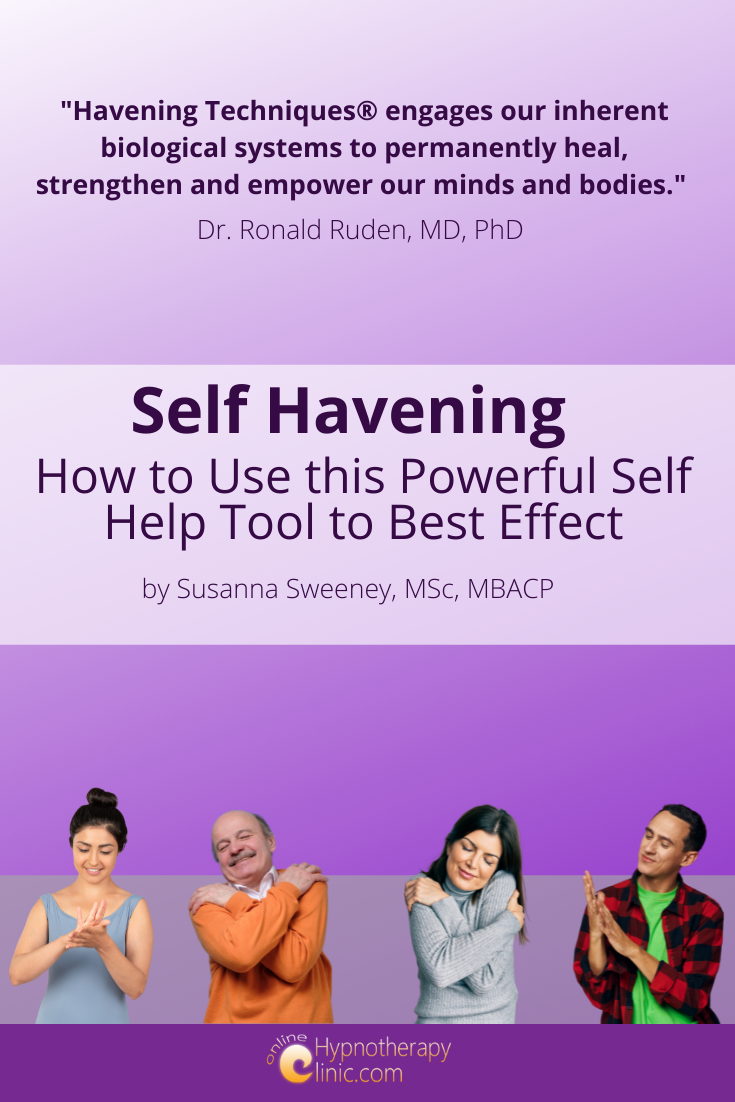 More About Havening
What is Havening and how Could it Help you Change your Life?
This article gives a solid introduction to Havening that I recommend you read first.
Havening Touch- How to use it to Change your Life
Find out why Havening touch works so well and how to perform it at home to calm difficult emotions in minutes and build resilience.
Havening Therapy Compared to Psychotherapy
Find out how the lesser known Havening Techniques®  compares to psychotherapy.
Dr. Ruden, Co-Creator of Havening in Interview with Susanna Sweeney discussing the history, philosophy and future of Havening Techniques.
Self Havening- How to use this Powerful Self Help Tool for Best Benefit
Find out how Self Havening could help you change your life for the better , and learn how to use it the right way so that you can get maximum benefit.
See the science and watch a client testimonial to see the amazing results Havening produces.
What is Havening? Find out about this cutting edge therapy modality that can help you with a vast range of issues including anxiety, low mood, low esteem, chronic pains, migraines and more
Havening Techniques- Interviews with the Founding Fathers

Meet Dr. Ron and Dr. Steve Ruden, founders of the Havening Techniques®, who- in two in-depth interviews, disclose the fascinating story of how this cutting edge psychosensory modality was developed.
I hope you have enjoyed this article and found it useful to add to your self help tool kit.
Will you give it a go? Let our community know in the comments below.
Regards,

Oct 06, 23 06:08 AM

Client Testimonials of my Online REPAIRenting® Program that uses various psychosensory approaches for safe and quick transformation

Aug 02, 23 09:26 AM

Oh thank you for this simple resolution to all my worries! I feel like I have had a weight lifted off my shoulders. It is like cheating on giving up smoking.

Jun 03, 23 06:29 PM

Havening Techniques im Gespräch mit Susanna Sweeney interviewt von Michelle Haintz