Havening Training Testimonials
Havening training for people professionals and those to be is available live online from the comfort of your own home.
Havening Techniques® are one of the most exciting modalities in the coaching, therapy and healing space today-  a novel and highly effective, neuroscience based toolkit for trauma treatment, building resilience and peak performance. 
Join a vibrant, progressive and supportive community and learn something new- take a Havening Training.
On this page, see what participants thought about previous Havening trainings!
---
March 2021 Haveninig Training, Online & Worldwide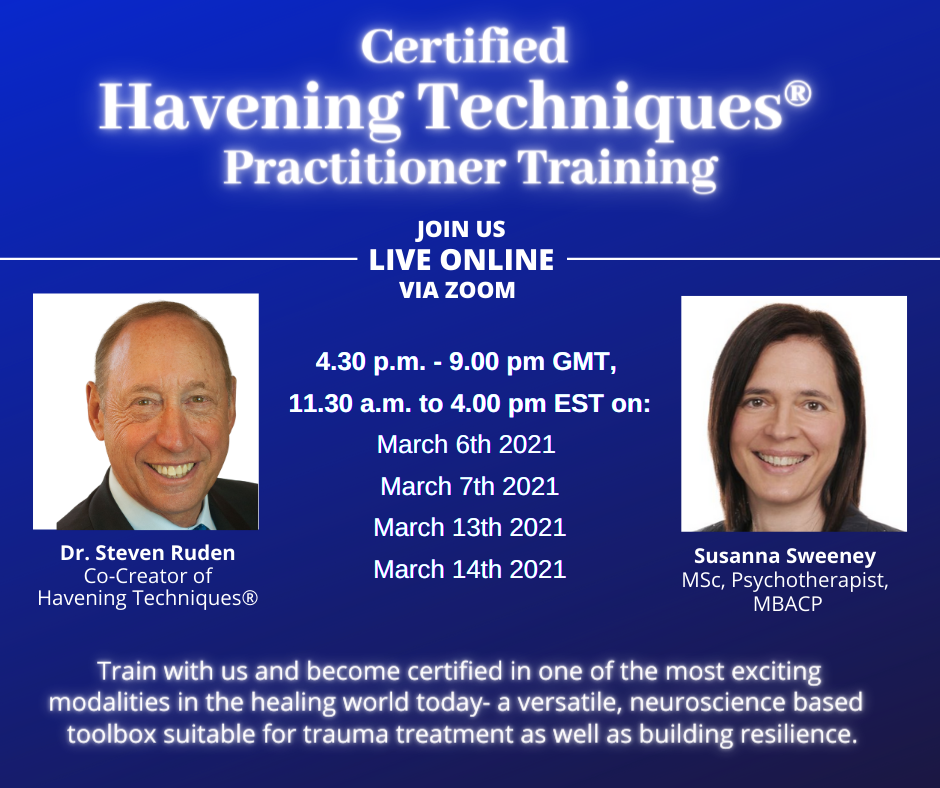 March 2021 Worldwide Havening Training in collaboration with Dr. Steven Ruden, Co-Creator of Havening Techniques
"The training was fantastic, just amazing! Thank you. I signed up to learn more about Havening so I could offer it to my first responders support project.... but left with a deeper sense of peace, hope, and dedication that will be directed toward my own journey. Many, many thanks!"
Kathy Hughes, Visual Artist, US
"Thank you for an extremely informative, engaging and fun course. I had high expectations for the course after attending Susanna's introductory talk - which I found fascinating! And my expectations were exceeded. 
The two of you worked so well together to present and explain what could have been tricky neuroscience.
Your enthusiasm for us to apply the training gave me the encouragement to try it out immediately and in under 15 minutes I was able to help one of my children who has been afraid of dogs for about 5 years to let go of that stress." 
I would highly recommend this training to anyone who is keen to know more about supporting their clients holistically.  Thank you."
Helen Skinner, Hypnotherapist, U.K.
"Dear Susanna, I'm over the moon excited about this work. I have been looking for something that had the science to back it. The more I have learned about neuroscience and the ability our brain has to change, I knew there had to be work we could do to make great changes to how we operate.
Thank you so much for your lovely way  of presenting. I love your attention to detail and you have a very lovely demeanor."
Jill mcCleary, Licensed Massage Therapist, US
"The course was wonderful! You did a fantastic job of presenting us with a lot of well-organized information that was easy to follow and understand. The breakout sessions were extremely helpful, as was the Q&A time we had.
I also really enjoyed the group Havening we did together. The best part for me was the information we received. There was plenty of it, but it wasn't overwhelming or confusing.
I will be bringing with me the solid foundation I need to further my education in Havening, as well as the hope that I can do this and make a difference to my practice members and the world. So, thank you very much for the terrific experience!" 
Jessica Scott, Health Coach, US
---
December 2020 Havening Training, Online & Worldwide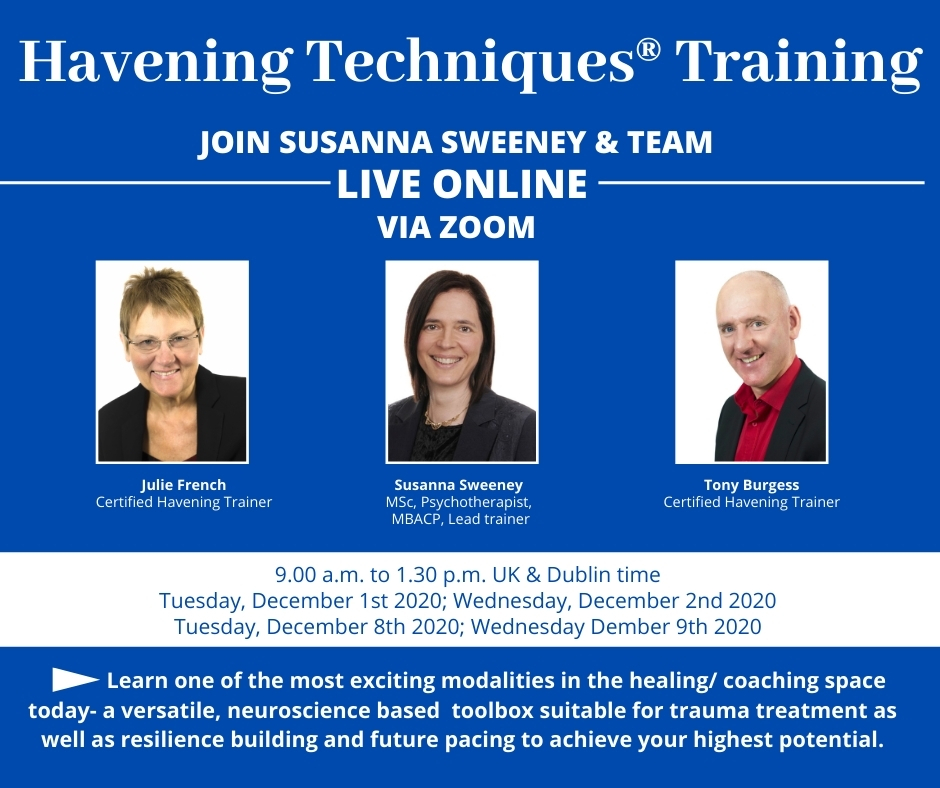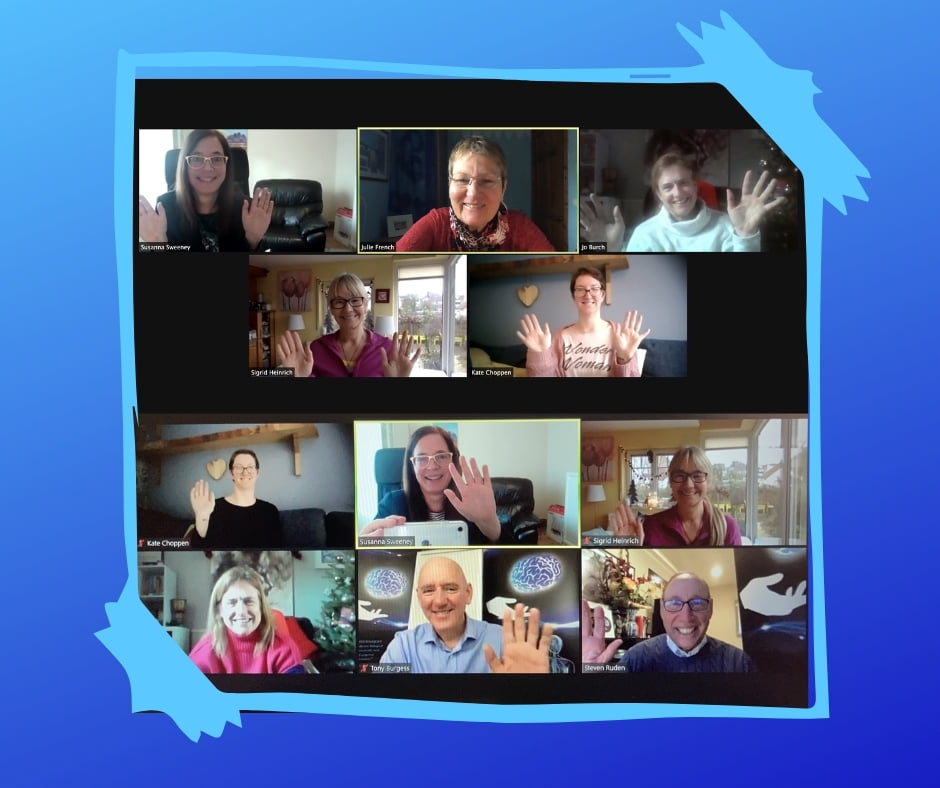 December 2020 Eurpean Havening Training in collaboration with Tony Burgess, Head of Havening Trainer's Training and Julie French, Havening Trainer
"I have found the Havening training with Susanna to be a truly enlightening process both professionally and personally. It reminded me how great therapy training can hold a mirror up to our own practice whilst adding in value tools and enhancing our knowledge.
Prior to the course I was apprehensive about learning the neurological aspect of Havening, however Susanna made this manageable and less daunting. Having this extra knowledge has been really beneficial to myself and my clients. I am so pleased to have incorporated Havening into my skill-set, thank you Susanna for your support on my Havening journey."
Kate Choppen, Occupational Therapist and Hypnotherapist, U.K.
---
What is Havening and how Could it Help you Change your Life?
This article gives a solid introduction to Havening that I recommend you read first.
Havening Touch- How to use it to Change your Life
Find out why Havening touch works so well and how to perform it at home to calm difficult emotions in minutes and build resilience.
Havening Therapy Compared to Psychotherapy
Find out how the lesser known Havening Techniques®  compares to psychotherapy.
Dr. Ruden, Co-Creator of Havening in Interview with Susanna Sweeney discussing the history, philosophy and future of Havening Techniques.
Self Havening- How to use this Powerful Self Help Tool for Best Benefit
Find out how Self Havening could help you change your life for the better , and learn how to use it the right way so that you can get maximum benefit.
See the science and watch a client testimonial to see the amazing results Havening produces.
What is Havening? Find out about this cutting edge therapy modality that can help you with a vast range of issues including anxiety, low mood, low esteem, chronic pains, migraines and more
Havening Techniques- Interviews with the Founding Fathers

Meet Dr. Ron and Dr. Steve Ruden, founders of the Havening Techniques®, who- in two in-depth interviews, disclose the fascinating story of how this cutting edge psychosensory modality was developed.