Havening Training 
By Susanna Sweeney, MSC, MBACP, CHT

On this page you can book upcoming Havening Training.
See testimonials from previous students here.
"Train and become certified in one of the most exciting modalities in the personal development field today- a versatile, neuroscience based and multi-functional toolbox suitable for trauma treatment, building resilience as well as peak performance."
Watch Havening Training Testimonials
---
If you are looking for Havening Training in German...
Benutzen Sie bitte diesen Link, wenn Sie eine deutschsprachinge Havening Techniques Ausbildung buchen möchten...
Upcoming Havening Training Online Worldwide (English Speaking)
All times given are Dublin time.
Special Offer: Training & Certification Package 
Havening Training & Certification Package Special Offer
Total Cost: €1285
Training: €860
Certification: €425
Training Only
The 'Training only' option is ideal for you if you are not interested in the certification process.
This may be because you are not in private practice and hence don't wish to use the term 'Havening' to advertise your services. 
It may also be because you want to check out the modality first to see what it's all about before committing to the certification process.
Training Only: €870
You CAN book certification with me separately post training if you so wish.

(Cost of certification booked separately: €499)
Returners are Welcome
If you have taken a Havening Training before and would like to repeat it as a participant, please book here.
Returner's fee: €299
---
Past Havening Training
I was both honoured and super excited to collaborate with the co-founder of Havening Techniques®, Dr. Steven Ruden, March 2021!
See what past training participants have to say!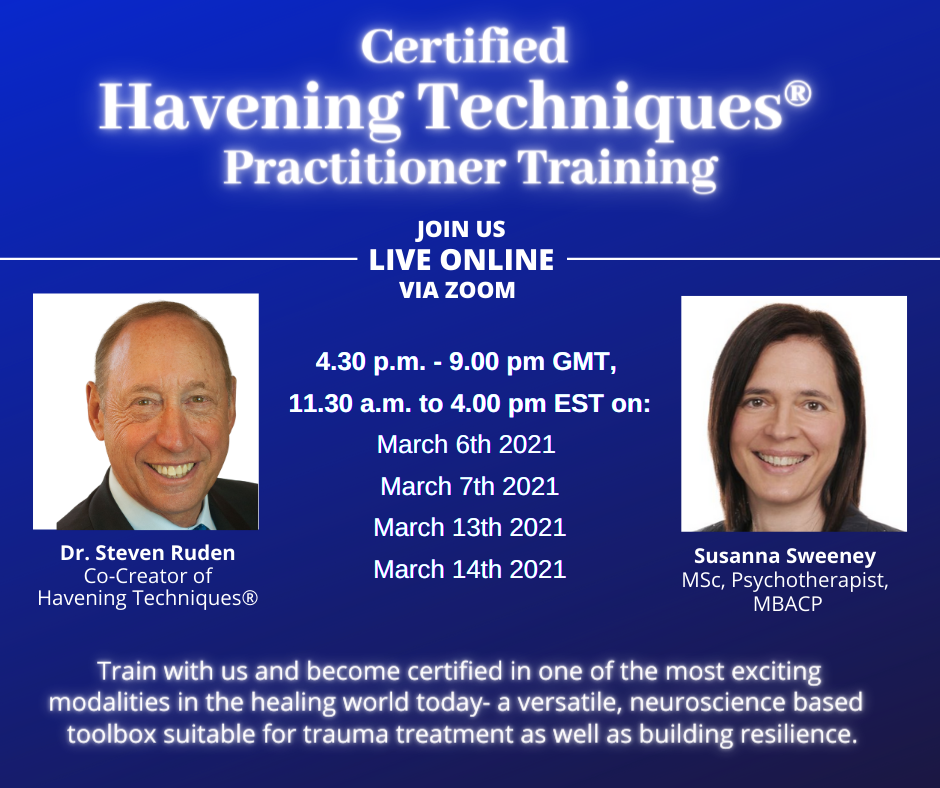 Benefits you can Expect from Havening Techniques Training
We have seen incredible results with Havening Techniques in client work.
As Havening enables us to work directly with the traumatic base of presenting symptoms in a safe and effective manner, issues that would otherwise take a long time to process or would be impossible to get to the root of are resolved in a short space of time.
Havening is also a fantastic tool for building resilience and confidence into the future, and coaches in particular will be interested in that side of the modality.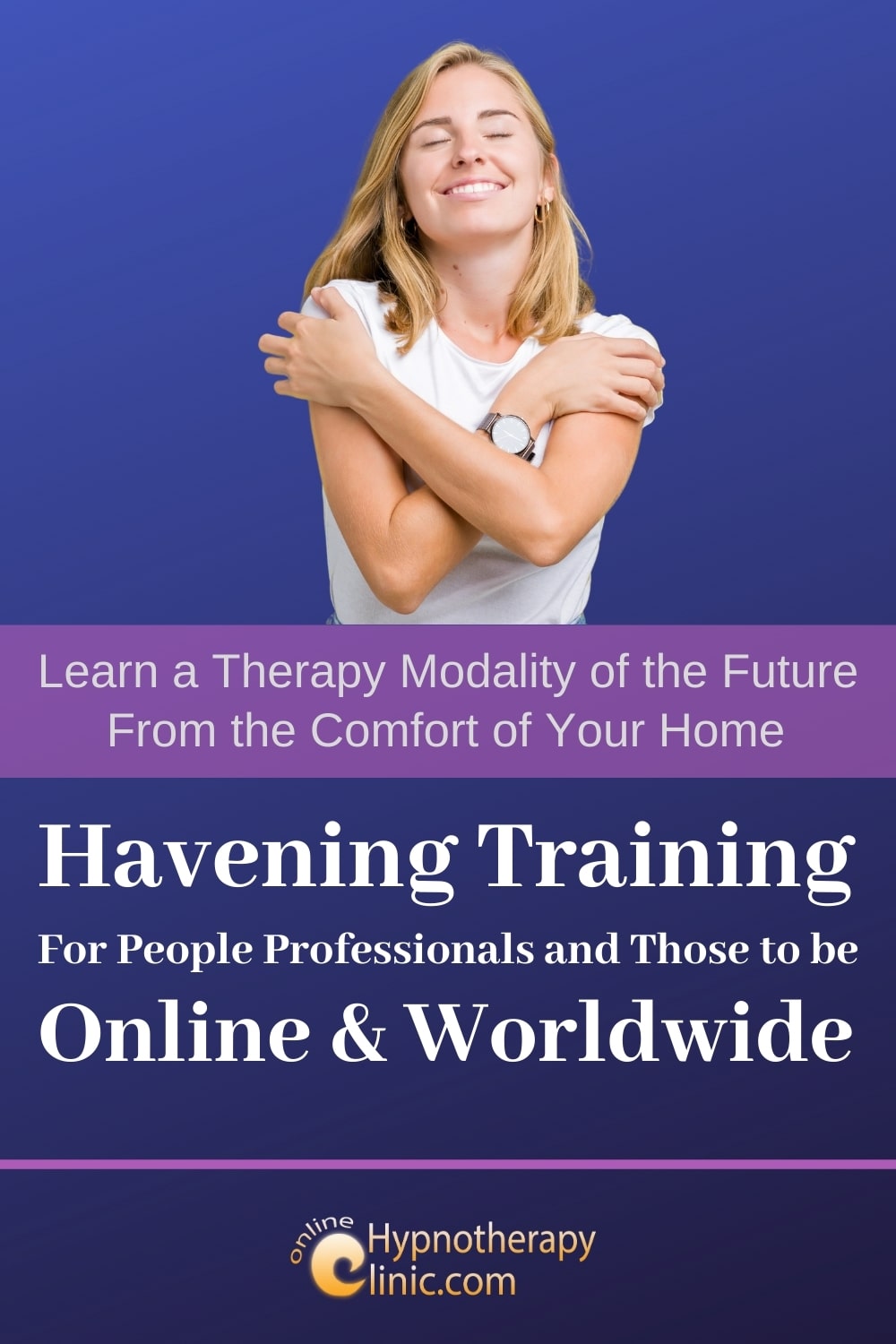 Havening offers:
A flexible tool box that will blend in seamlessly with whatever other therapy modalities or coaching stream you are already using in your practice.
Imagine getting reliable and consistent results in your client work.
Imagine being able to achieve these amazing results in a short space of time.
Clear and simple treatment protocols so that you will always know what to do.
Havening enables you to work with your clients online- delivering the same great results as face to face.
Be surrounded by a supportive community to help you develop and grow as a  Havening Practitioner.
What you can Expect from Havening Training
While the training teaches all the Havening techniques, we highly recommend going through the certification process, too for extra teaching content, more in-depth learning and understanding of HT processes. 
Why Certification Matters
After taking the basic Havening training you can use the techniques to work with your clients.
You are not  permitted to advertise "Havening" being part of your practice in any of your promotional materials, however, and you cannot call yourself a "Havening practitioner". 
To be able to call yourself a Certified Havening Practitioner and use the term "Havening" in your promotion, you will have to go through the certification process and qualify as a "Certified Havening Practitioner".
What you can Expect from the Certification Process
During the certification process, you will complete 32 case studies including two on video, a science exam, and if you are based in the US- an ethics exam (which is charged for separately by Havening HQ).
These extra sessions will focus on practice of the techniques,  a space for Q&A, case discussions and some extra curricular tuition as well as an opportunity to meet other students to exchange sessions with for your own personal development.
Upon completion of certification, you can call yourself a "Certified Havening Practitioner", (which is renewable annually at a fee of $99 which also gives you a practitioner listing on the official Havening.org website). You get access to promotional materials and can use the term "Havening" in your promotional materials.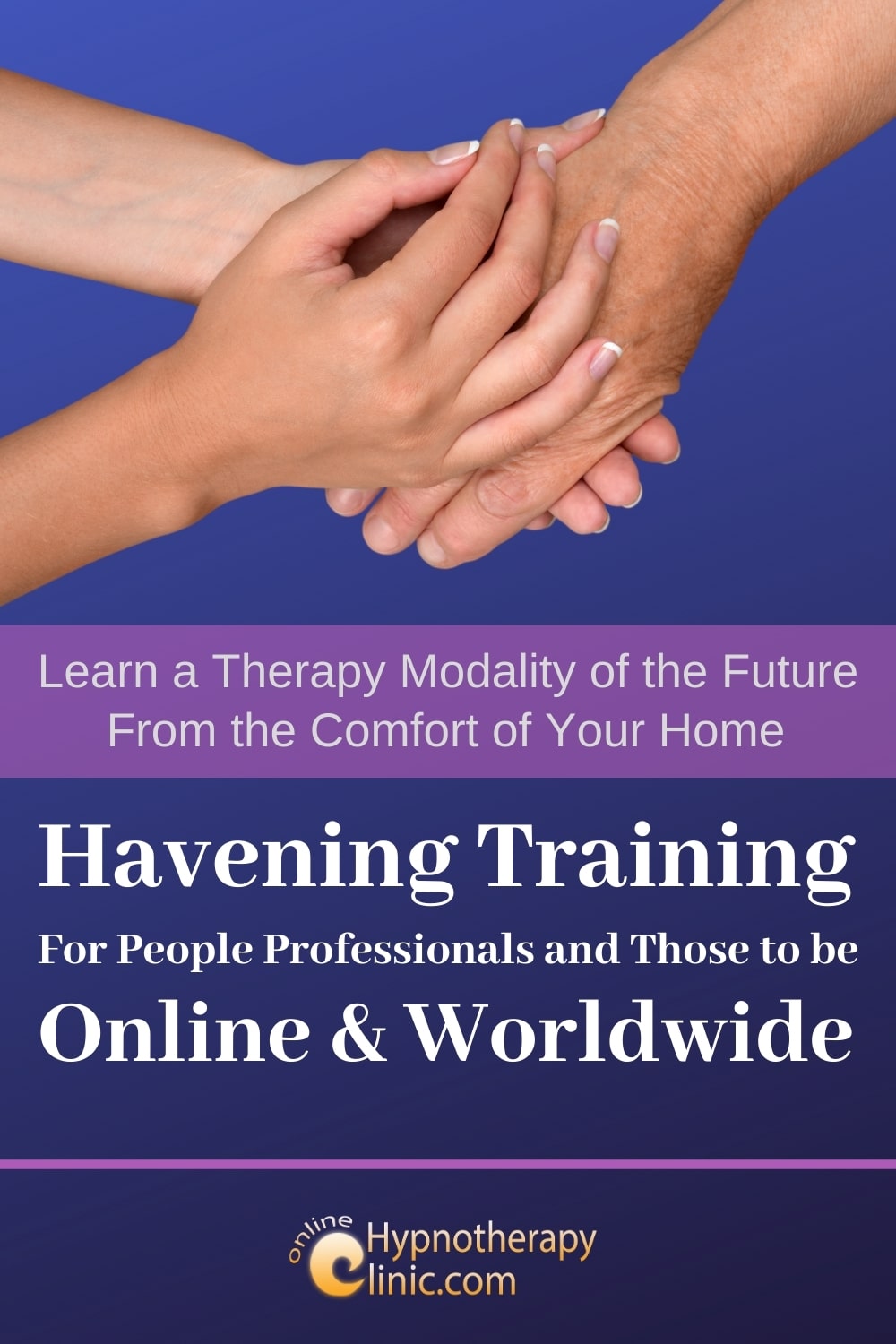 Who is Havening Trainings Suitable for?
If you are already a  people practitioner, you can benefit from HT training in most roles where you either come in contact with either trauma, toxic emotions or chronic pain- or want to build resilience with your clients and prepare them for their ideal future.

The Havening community already has practitioners from the following professional groups who are all making active use of HT in their work:
Doctors, nurses, midwives, dentists, psychiatrists

Psychotherapists, counselors and psychologists

First responders such as paramedics and fire brigade and those supporting first responders

Social workers and foster parents, social care workers working with the homeless or vulnerable groups such as refugees

Hypnotherapists, NLP practitioners, alternative health practitioners of all persuasions

Coaches, such as life coaches, transformational coaches, trauma coaches, also performance and executive coaches

Teachers, child care workers and others working in the education space
At the moment, Havening Training is open to anyone with an interest in learning the modality.
The training weekend alone won't make you a therapist, but can provide you with a first stepping stone to becoming one.
Havening Training Online
I continue to provide Havening Training online.
You can expect the following benefits from training online:
About Me
If we haven't met yet, I am Susanna Sweeney, MSc, MBACP. My background is in a 25 year career in the trauma field.
I took my first Havening Training in April 2018 with Dr. Steven Ruden. I became certified the following month and since then have been working hard on mastering the techniques involved and integrating them with my existing skill set in psychotherapeutic trauma work.
Since qualifying as a Certified Havening Practitioner I have facilitated on five Havening Technique trainings, three with the founders of Havening, Dr. Ronald and Dr. Steven Ruden, and twice with Tony Burgess and Julie French. Assisting on these trainings has further enabled me to hone my skills.
I am super excited and proud to be able to now offer Havening training and share my passion for this amazing toolbox grounded in neuroscience!
---
Book an upcoming Havening Training today, watch your practice take off and never look back!
I look forward to accompanying you on this exciting journey.
Regards,

If you cannot find any suitable dates listed, you can put your name on my mailing list for Havening Trainings using this form.
Havening Training for People Professionals and Those to be
Havening Training is Now Available Here, Delivered Online Worldwide

If you are a people professional (a therapist of any persuasion, coach or similar) or are on the way to becoming one, consider adding Havening training to your toolbox which enables you to support clients to overcome trauma as well as build resilience and prime them for their best future. Train in a cutting edge modality that you can deliver online. Get amazing results your clients will love you for.
Havening Training Testimonials
See what participants of previous trainings have to say about their experience on the course.
Havening for Effective, Gentle and Permanent Change
What is Havening and how Could it Help you Change your Life?
This article gives a solid introduction to Havening that I recommend you read first.
Experience Havening in my Find Your Calm Group Sessions
Held Live online monthly, information and booking here
Havening Touch- How to use it to Change your Life
Find out why Havening touch works so well and how to perform it at home to calm difficult emotions in minutes and build resilience.
Havening Therapy Compared to Psychotherapy
Find out how the lesser known Havening Techniques®  compares to psychotherapy.
Dr. Ruden, Co-Creator of Havening in Interview with Susanna Sweeney discussing the history, philosophy and future of Havening Techniques.
Self Havening- How to use this Powerful Self Help Tool for Best Benefit
Find out how Self Havening could help you change your life for the better , and learn how to use it the right way so that you can get maximum benefit.
See the science and watch a client testimonial to see the amazing results Havening produces.
Havening Techniques- Interviews with the Founding Fathers

Meet Dr. Ron and Dr. Steve Ruden, founders of the Havening Techniques®, who- in two in-depth interviews, disclose the fascinating story of how this cutting edge psychosensory modality was developed.
Havening und Havening Techniques Ausbildung auf Deutsch
Was ist Havening und wie könnte es Dir helfen, Dein Leben zu verändern?
Deutschsprachige Einführung zum Thema Havening.
Havening Interview zum Kennenlernen (auf Deutsch)
Susanna Sweeney im Interview über die Havening Methode.
Havening Techniques® Ausbildung auf Deutsch
Lernen Sie eines der modernsten und faszinierendsten Verfahren zur Auflösung von Traumasymptomen, Angstzuständen, chronischen Schmerzen und anderen Blockaden und zur Stärkung von inneren Ressourcen. Bequem von zu Hause- online.